Throughout the years, we have always received emails to make a customized cake for diabetics. In my experience, even diabetics have their own preference when it comes to sugar. Like my mom, she can have sugar just once in awhile and in moderation. For some, substituting processed sugar to unprocessed (to an extent) sugar is fine. For some, no sugar at all, which means 100% fruit based.
The thing is, if it is not raw cake, most likely you would still need a form of sugar substitution or a combination to get a similar outcome as normal cakes.
Couple of weeks ago, our customer reached out to us for her grandfather's 60th birthday, and he was diabetic.
We, just bakers and not nutritionists nor doctors, will always try and brief our customers on what we are able to do with what we know.
Her grandfather was able to consume unrefined sugar such as coconut sugar. Because she wanted our bestselling gluten free White Choc Pistachio cake, we opt for coconut sugar with a cream cheese frosting sweeten with a bit of honey instead. Of course, for his 60th birthday, we have to take it up a notch with some raspberries.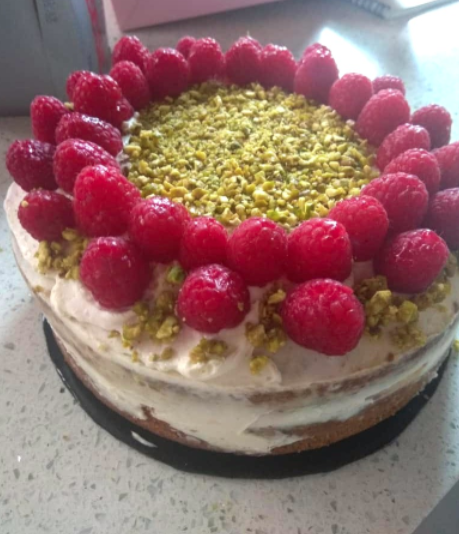 " Thank you so much for the delicious cake! Everyone enjoyed it! It's all gone now!
Love the texture and most importantly it's not too sweet! "
- Pei Wen
It is always exciting to be experimenting and creating cakes people can enjoy. Thanks so much, Pei Wen for letting us create this memory for you and your family.
If you want to get in touch for your own bespoke cake, please email us at [email protected]
Originall published on July 17,2019
#baking #sugarfreebaking #diabeticfriendlycake #nosugarcake #zerosugarcake #cakemalaysia #bakingmalaysia #glutenfreecake #glutenfreekl