Joleyn is one of our loyal customers that orders birthday cakes for her son every year. Now that I am a mom, with a child that also suffers from eczema, interviewing Joleyn about raising her son with food intolerances really is helping and guiding me in the days moving forward. And to those who are reading this and sharing the same challenges, I hope that this puts you at ease and help you as well.
1. How did you find out that your son, Oliver had an intolerance to egg and nuts? What sort of reactions does he get from consuming them?
When he was born, he had very bad rashes on his cheeks, behind his knees and even on his scalp. I was breastfeeding and I felt really bad cos I thought I was at fault. Thoughts that crossed my mind; Maybe my milk isn't all that good. Maybe he is allergic to my breast milk. Maybe I did something wrong.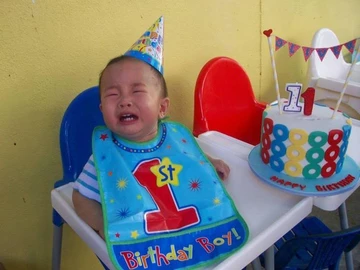 All irrational thoughts of course and I even tried formula milk but he refused as well. So I had no choice but to continue breast feeding but we still had to get him checked and we did not want anything invasive
So we took him to Dr Wong in Tangkak and he was tested to be intolerant towards, eggs, nuts, pesticides and dust mites.
This was when he was only about 1 year old. We experienced a couple of bad reactions by accident even though we got him tested.
Noob parents haha!
My husband accidentally gave him peanut butter when he was 2 years old. He also 'accidentally' ate one whole hard boiled egg. His eyes and lips were swollen and he developed very bad rashes immediately.
2. Was it by chance or it runs in the family as well?
We are not sure as none of us have any form of intolerance.
But my brother had eczema since he was a kid and it went away when. he was 17. My husband was asthmatic. My mom, godma (who is my mom's sister) and mother in law has eczema.
3. How did you manage prepping his meal during the early years?
It was tough. We had to change our lifestyle all together. We skipped our regular joints. We can't even go to a regular warung or kopitiam cos his eczema could be triggered by the heat as well. Up til today!
So we started off by cooking at home and having our meals at home. And it's hard cos you're a working mom and we don't have help in the house. So you work all day, you wake up early and you prep the food.
He went to the nursery when he was little and we were very lucky to have them cos they were very helpful in ensuring Oliver would avoid all those allergens as well.
He would have his fried rice for example, without egg. He would skip that slice of cake in kindy cos he cannot have it and we would feel super guilty and feel bad for him again. We tried mashed organic apples, pears, broccoli.
I cooked porridge with organic carrots / pumpkin / spinach / radish with a bit of kicap for taste haha. When he was older I experimented with pasta which is still his fav till today!And now it's so much easier. But yeah - the whole organic journey was very expensive for us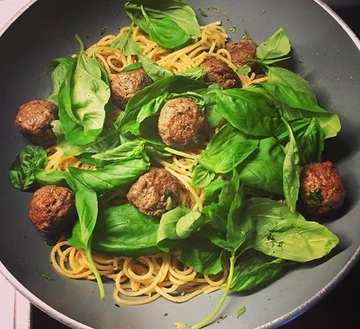 4. Can you give us a brief summary of " What Oliver Eats in a day " ?
AM (Before School) : Soy Milk with Crackers / Bread With Jam
AM (Recess) : Crackers + Boxed MIlo / Sandwiches / Homemade Sausage Rolls
LUNCH : Fried rice / Rice + Soup + Veg / Fried Noodles
DINNER : Pasta / Rice + Soup + Veg
SUPPER : Milo + Weetbix
He doesn't get sweets / ice cream. Sweets would be once or twice in a year. Ice cream would be the ones from MCD only. Strangely enough, he does not get rashes from them! Yay MCD!
5. Was it easy to find food for him when eating out? Did you have to google and do a rough check on the menu before heading out?
No it wasn't, at all. That's why we had to cook at home most of the time, till now. But now that he is 7, it's so much easier and more manageable. But we do only go to the regular places where we can find his fav pasta, or noodles or the good old Japanese meals. So yes, it's still pretty much planned to what he likes. Haha. Oliver loves PASTA. Momma does not.
6. Can you share with us your favourite go-to restaurants in KL that can cater to intolerances such as Oliver's?
Well a good Chinese restaurant we like is Village Roast Duck. But for pasta, we like Nutmeg at BV cos they are oh so nice and helpful.
Sitka is also very good because they would whip up that special pasta or just give Oliver some sourdough with their homemade butter which he loves.
And there is also Rakuzen that never fails. He takes the beef with white rice and some miso soup.
We were also once at Entier and they had nothing that Oliver could eat. And the chef was so nice and made him a bolognese pasta!
If you're reading this, God bless you!
7. Did you or the family decided to avoid eggs and nuts as well alongside him for ease/support? If yes, has there been any positive results avoiding them since?
When I was still breast feeding, yes. And yes it did improve. I had to cut out eggs and nuts, which I LOVE!
8. My very own girl has Eczema and we found out she has irritations towards banana as well, which makes it challenging for me to prep her meals because banana is sort of a staple as baby's first solid food. What has been the most challenging so far for both you and Oliver?
Nuts. Thai food - they love sprinkling nuts on everything. Nuts everywhere! Crushed nuts. All sort of nuts. Drives me nuts!
Then we recently discovered that he may be allergic to sesame oil as well. And we experienced this in SG.
As you suspected, he had swollen lips. After checking that he was not choking or short of breath and after we rushed him to the doctor's, this momma actually did laugh at his lips.
HAHA. Don't judge me! Sometimes we need to be able to laugh about it because it's full on 7 years of juggling and managing this intolerance and managing my own guilt as well
9. I am assuming it is much easier now to make or find meals without egg and nuts compared to years back. Supermarkets are now flooded with dairy substitutes, although some can be quite pricey. What are your or his favourite dairy substitutes?
Hmm have not been able to find a substitute for eggs till I found you guys!
He gets to eat chocolate cake and be happy! GOD BLESS YOU!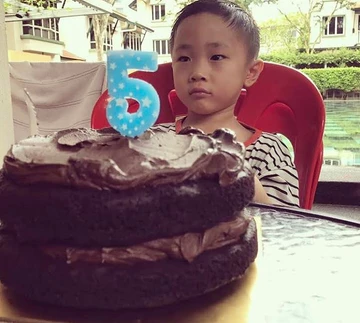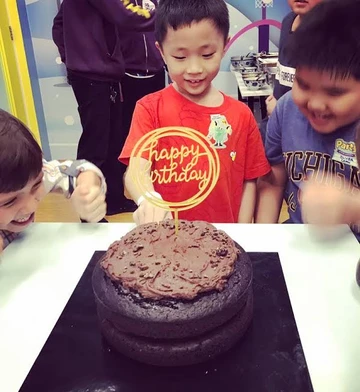 10. How about desserts? What is your go-to diy desserts at home when Oliver is craving for something sweet?
He does not get any haha. The most is a cup of Milo. We tried yoghurt and stuff but no can do.
11. Do you have any advice to other moms on how to handle their kids with intolerances?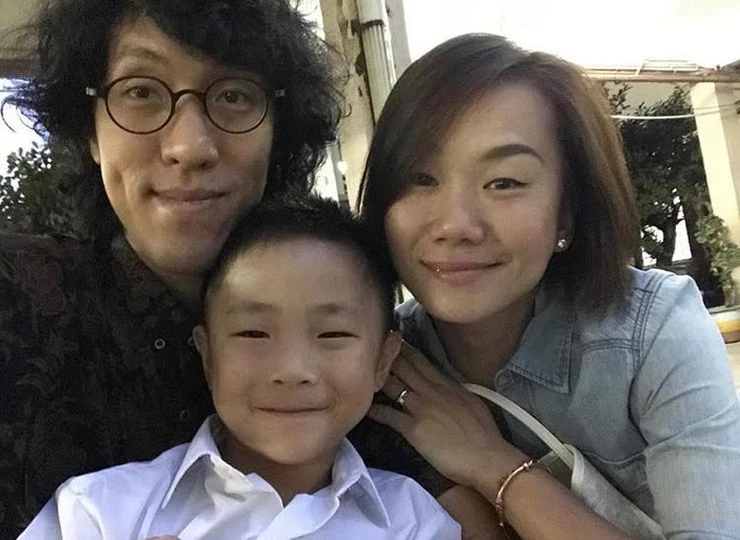 Don't blame yourself and don't be so hard on yourself. It's not our fault. As long as our kid laughs every day, feels loved and is well fed and taken care of, we are good.
And have a strong support system - your husband, friend or a family member. Just that one person you can go to.
My husband, Adam, was a great pillar of support for my moods whenever Oliver's eczema would break out. The minute I see rash or I see him scratching, it puts me in this bad place in the past.
I would get all worked up. No joke. But now I am handling it a lot better and coping the best I can, and Adam helps me with it.
And when your kid is older, you can talk to him about it. We have explained to Oliver what he can't have and why he can't have it and since the age of 5, he was able to tell his teacher or friends that he could not have that slice of cake because it contained egg / nuts
---
Thank you to Joleyn and her family for letting us share their story here. You are a wonderful mom Joleyn and Oliver is lucky to have you!
All images were given by Joleyn. Originally published on August 2, 2019
#foodallergies #foodintolerances #eczema